Ongwanada was founded on August 8, 1948 by Dr. Bruce Holmes Hopkins, a persevering and dedicated physician who campaigned for over twenty years to establish a tuberculosis sanatorium in Kingston.  The building had been constructed in 1942 as a hostel for women working at Alcan during World War Two, and in 1946 was converted into a veterans' hospital. Dr. Hopkins went to great lengths to transform the makeshift structure into "Ongwanada".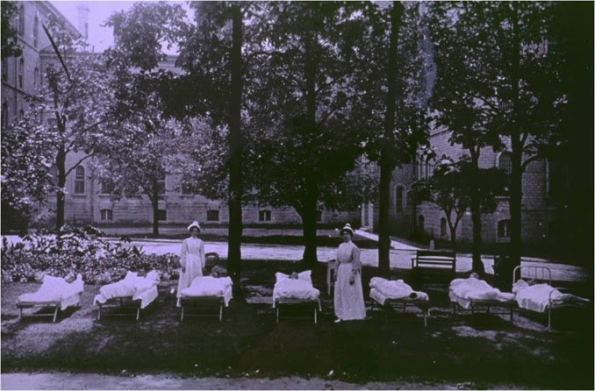 Tuberculosis patients resting in the shade at Rockwood (later the Penrose Division of Ongwanada)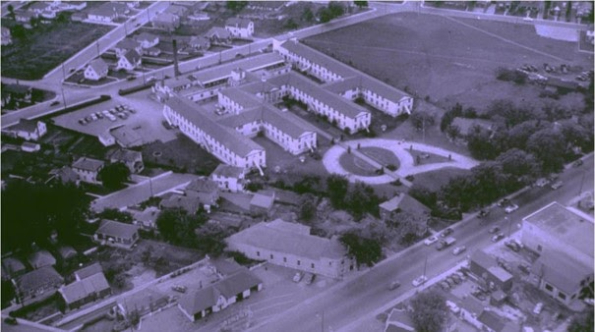 Aerial photo of Ongwanada Sanatorium in the 1950's.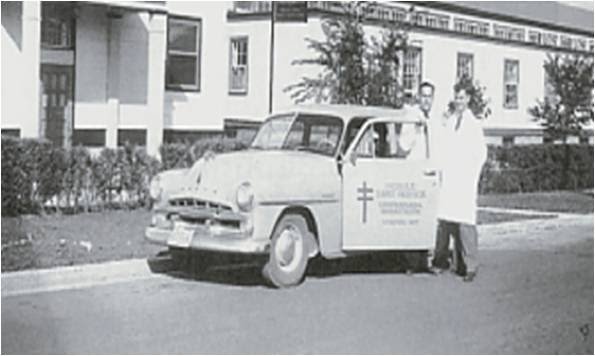 A photo from 1952 of the x-ray vehicle used.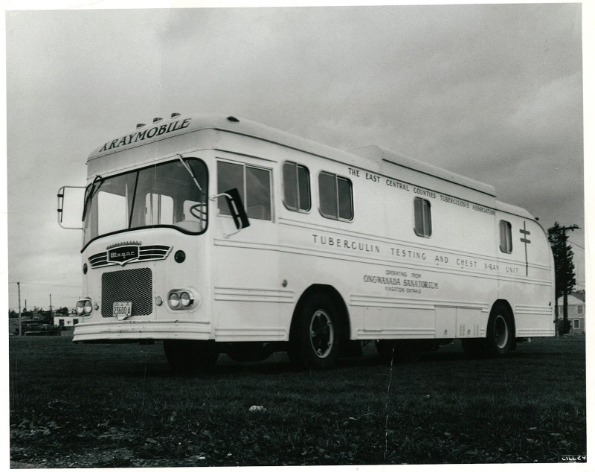 A photo of the X-Ray bus, purchased by Ongwanada in 1962. The mobile testing vehicle only operated for a few years. -** George Lilley Photograph, Queen's University Archives
An aerial view of Rockwood (Penrose) from 1948.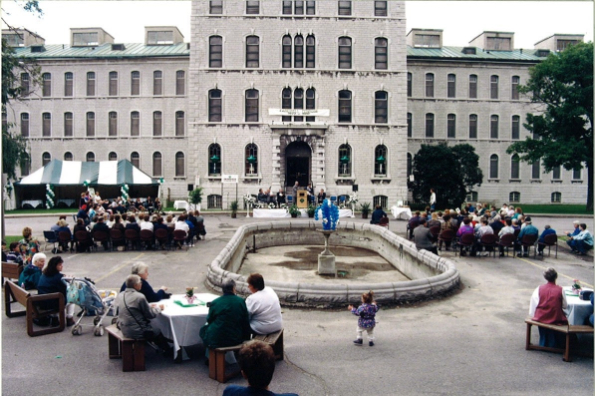 An outdoor ceremony was held in 1996, prior to the closure of Penrose.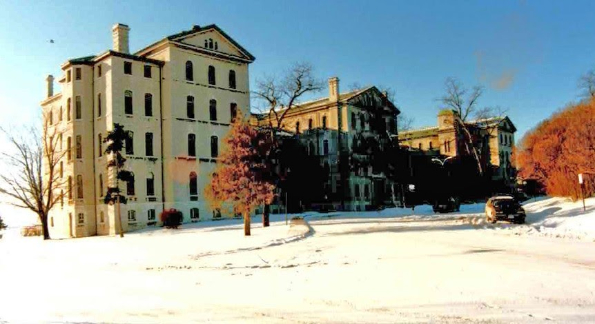 The Penrose building in 1998, after it was closed.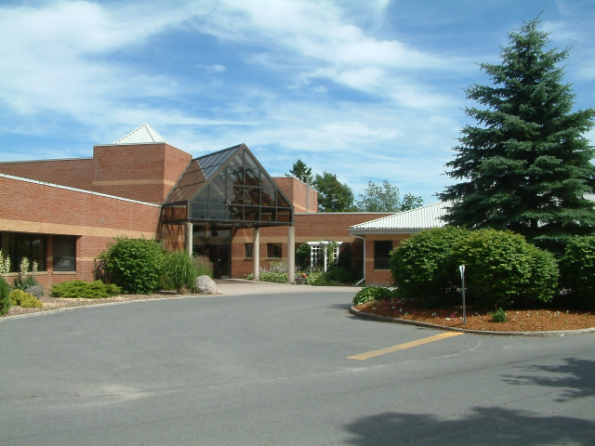 Ongwanada Resource Centre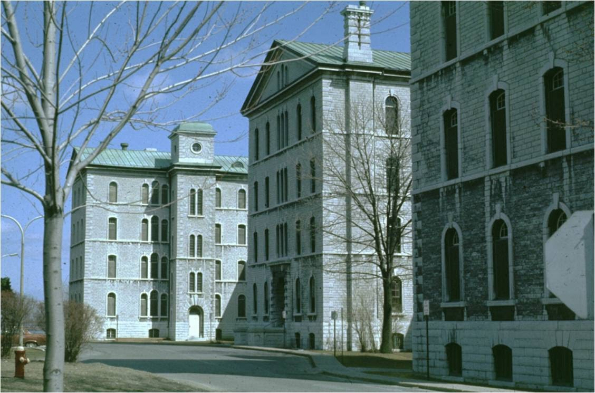 Penrose is still standing today.
Original Ongwanada building was constructed in 1942 as a hostel for women working at Alcan during WWII and was converted into a veterans' hospital in 1946 and ultimately a tuberculosis sanatorium.
Founded on August 8, 1948 by Dr. Bruce Hopkins as a sanatorium for tuberculosis patients.
The 1950s brought new programs and a steady demand for beds. However, the late 1950s brought improved drug treatment for tuberculosis leading to a crisis of empty beds. Dr. Hopkins and the Ongwanada Sanatorium board fought to not be shut down by the government.
In 1967, 100 children with severe developmental disabilities from large and overcrowded facilities elsewhere in the province were gradually transferred to Ongwanada.
In 1968, a 30-bed unit for chronic care patients was opened. Tuberculosis and respiratory disease work continued in a limited fashion.
The 1970s brought parental demands to move from a custodial nursing care model to developmental programming for supported individuals – a move from being viewed as patients to being members of the community.
In 1971, the Sanatorium was renamed Ongwanada Hospital to keep with a broader mandate.
In 1974, oversight responsibility for developmental services transferred from the Ministry of Health to the Ministry of Children, Community and Social Services.
In 1977, Ongwanada merged with the L.S. Penrose Centre located on King St which housed 120 adults with developmental disabilities. The merger resulted in public controversy over Ongwanada's future role, ultimately resulting in "redevelopment" involving the creation of community services and the eventual closure of both the original Ongwanada facility (known as the Hopkins division) and Penrose.
In the 1980s, all children at the Hopkins location were transferred to communities near their families or relocated to 17 new community residences in Kingston operated by Ongwanada.
Operations of Ongwanada's chronic care and respiratory disease units were transferred to Providence Care, St Mary's of the Lake site in November 1990.
Hopkins location closed and the Ongwanada Resource Centre opened at its present location.
The late 90s focused on the adults living at the Penrose location, the majority of whom chose to move into 11 new community residences located along the Napanee-Gananoque corridor.
The Host Family Program (previously Home Share program), where individuals live with a family other than their own with support from Ongwanada, expanded.
Penrose location closed in April 1997.
In 2007 Ongwanada became the accountable agency for the Community Network of Specialized Care (CNSC) in the South East region. Through its evolution, the CNSC is now responsible for the provision of complex support coordination, dual diagnosis justice case management, and health care facilitation for adults with developmental disabilities who have high support and complex care needs.
In 2008 Ongwanada opened The Southeastern Regional Transitional Treatment Home providing assessment and treatment for adults with a developmental disability and severe challenging behaviour.
On the afternoon of January 22, 1953 a group of 25 women gathered together at the Ongwanada Sanitorium at the request of the medical director, Dr. Bruce Hopkins, to consider forming a Ladies' Auxiliary. They were so eager to help that they promptly appointed an executive and organized a membership tea which attracted 102 members.
The purpose of the Auxiliary was to befriend and support patients suffering from tuberculosis. They needed funds for their work and by the end of 1953 they had raised $1,816. They assisted poorer patients, bought Christmas gifts and many additional comforts. They also helped finance the travelling chest clinics that were crucial to early diagnosis of the disease.
As the years went by, fundraising became an ongoing preoccupation of the Auxiliary and the membership reached close to 200. They held their first Thanksgiving Tea and Sale on October 7, 1953 and raised $1,250. The sale attracted large crowds and became a splendid Kingston tradition. The sale however was discontinued in 1972, when the Auxiliary took over the canteen. By that time, Ongwanada was no longer a sanatorium. Ongwanada Hospital had become a multi-faceted organization providing services to chronic care patients and children with DD. When Ongwanada amalgamated with the L.S. Penrose Centre in 1977 the Auxiliary staffed a canteen at Penrose on weekends, running from 1977- 1981.
The Auxiliary has made many significant financial contributions to Ongwanada over the years while raising funds through a canteen and gift shop, cookbook & garage sales, and many, many bake sales, strawberry socials and raffles. The funds have contributed to many areas of the organization. Some of the donations have assisted with redecorating the chapel (1958), annual donation towards summer holiday camp, $60,000 towards Ongwanada's capital campaign (1991), $14,250 toward purchase of a ventilation system for the Genomics Lab, a wheelchair accessible van, client equipment and most recently towards outfitting the Phil Koven Memorial Boardroom with current furnishings and new technology that better enables board and staff to work from a virtual platform.
In recognition of the Auxiliary's contributions to Ongwanada a commemorative plaque will be hung in the Boardroom.
The Ongwanada Auxiliary decided to sunset its operations over the past year. We are forever grateful for the 68 years of support to Ongwanada and significant financial donations to the organization.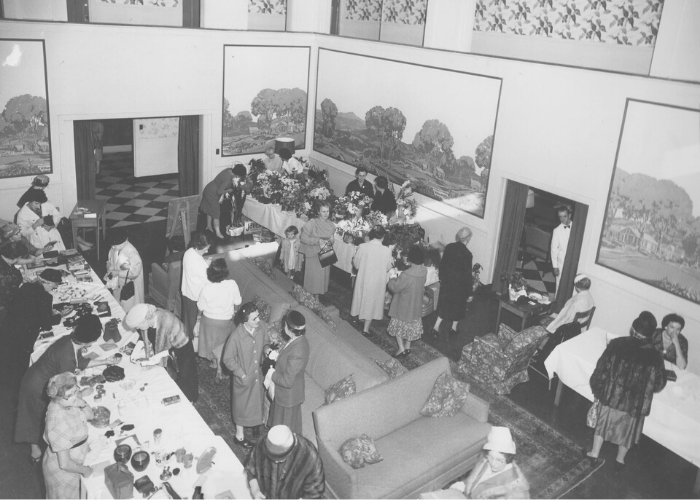 The annual Thanksgiving Tea and sale was a popular event that involved the entire membership, which had almost 200 volunteers at its peak in the late 1950s.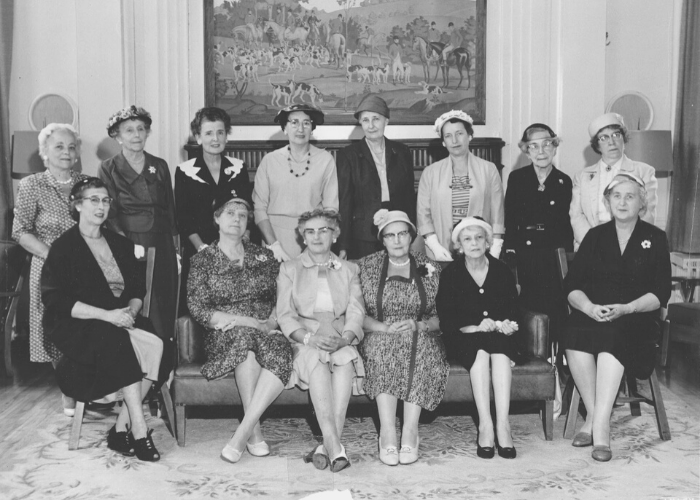 The Executive of Ongwanada Auxiliary in 1958.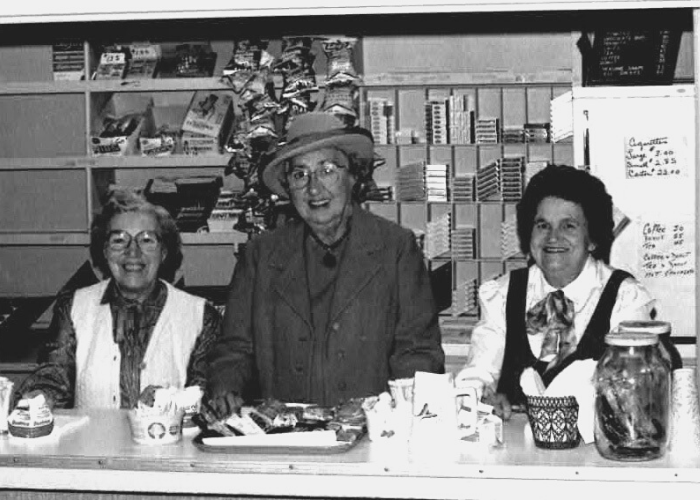 Just a few members of the Ongwanada Auxiliary in the Hopkins canteen, which they started running in 1972.
Find Out how You Can Help
 There are many different ways to help the organization.
Questions or concerns? We encourage you to reach out.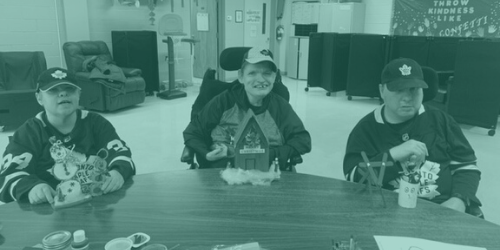 Specialized & Clinical Services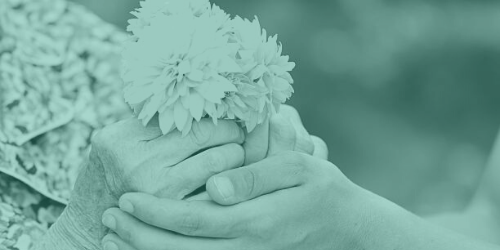 How to Access our Services