Dear Ongwanada Families;
The situation with the COVID-19 pandemic appears to be improving with cases decreasing and most masking requirements ending. 
As I am sure you are aware, Chief Medical Officer of Health, Dr. Kieran Moore, continues to recommend masking in congregate care settings.  This has resulted in the Ministry of Children Community and Social Service (MCCSS) deciding to maintain masking inside group homes for the foreseeable future.
When visiting our group homes, day program, or Ongwanada Resource Centre, we ask that you continue to wear a medical-grade face covering.  All Ongwanada staff are required to wear a mask in these settings, but are not required to do so when out in the community with the people we support.  In this circumstance they can choose whether or not to wear their mask.
MCCSS also expects screening measures to remain in place, so upon entering a home or an Ongwanada facility, you will be required to perform active screening, including a temperature check.
We are happy to report that with these preventive measures in place, we have been given the go-ahead to gradually increase our day program capacity to pre-pandemic levels, a welcome thing to so many. Our homes are also excited to get together at various outdoor locations across the area for social activities; this will add to a sense of things returning to some degree of normalcy.
Thank you again for your ongoing patience and understanding as we work to keep your loved ones, our staff, and the community safe. I am confident that if we continue to remain vigilant and take these preventive measures, we can all have a wonderful summer.
As always, we encourage you to reach out with any questions or concerns that you may have.
Sincerely,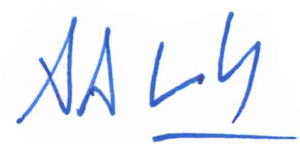 A. Alastair Lamb M.Sc. MPA
CEO