Dear Ongwanada Families;
This past year has been another challenging year for the people we support, families such as yourselves, our staff, and the organization overall. COVID continued to impact many aspects of the organization and affected many of our services. But, despite these challenges, we moved forward with several important initiatives outlined in the Annual Report, which I would encourage you to review.
This document outlines some of the activities undertaken in the past year. It gives a sense of the breadth and depth of the services we provide and the number of people who benefit from these. Year-on-year comparison of key data elements shows changes in activities impacted by the pandemic but also shows growth in certain areas of our operation. These data will prove ever-important as the Ministry of Children Community and Social Service implements its "Journey to Belonging: Choice and Inclusion" vision for the future provision of developmental services.
Like every organization, Ongwanada has had to be flexible, has had to embrace new ways of doing business, and has had to challenge the status quo. As the late Martin Luther King. Jr. said:
"Today, our very survival depends on our ability to stay awake, to adjust to new ideas, to remain vigilant, and to face the challenge of change."
With your ongoing support, we will continue to meet the ongoing challenge of change while sustaining our quality of service as we fulfill our values of Support. Respect. Choices.
If you would like a hard copy of the Annual Report, please let Kate Bearman know (kbearman@ongwanada.com or 613 548 4417 ext.1113.)
Sincerely,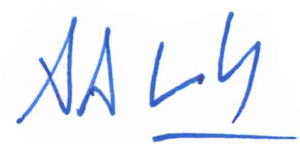 A. Alastair Lamb M.Sc. MPA
CEO